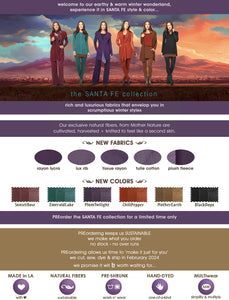 MULTIwear Transformational Styles
Learn how to MULTIply your wardrobe & SIMPlify your life!
view the multiwear
What is your BEST color?
For the past decade I have been creating my custom color palettes in collaboration with Master Colorist Jennifer Butler.

This season we created two beautiful skin tones, one warm topaz and one cool roseclay, to complement & enhance the natural beauty of the wearer.

Do you want to know what colors are BEST for you? Warm or cool shades? Low contrast or high contrast? Take her seasonal essence quiz & discover YOUR essence!
TAKE THE QUIZ!
Our Garden Studio
Located in the heart of L.A. Arts District